We couldn't go past this SUPER easy but amazingly delicious recipe from Two Peas & Their Pod. French toast sticks with a special cinnamon streusel topping! Kids and adults will love this breakfast treat!
INGREDIENTS/
For the French Toast Sticks:
4 slices Texas Toast (or French bread)
3 large eggs
1/2 cup milk
1 teaspoon vanilla
1/2 teaspoon ground cinnamon
For the Cinnamon Streusel:
1/4 cup all-purpose flour
1/4 cup brown sugar, packed
1/2 teaspoon ground cinnamon
3 tablespoons cold unsalted butter, cut into chunks
METHOD/
1. Preheat oven to 350 degrees F. Line a large baking sheet with a Silpat baking mat or spray with non-stick cooking spray. Set aside. Cut bread slices into thirds then set aside.
2. Cut the bread slices into 3 sticks. In a large shallow dish, whisk together eggs, milk, vanilla, and cinnamon. Dunk bread sticks into batter, let excess drip off, then place onto prepared baking sheet. Bake for 9 minutes.
3. While the French Toast Sticks are baking, make the cinnamon streusel. In a medium bowl, combine flour, brown sugar, cinnamon, and butter. Mix together with your hands or a fork, until you have a crumbly mixture.
4. Remove French Toast Sticks after the 9 minutes. Flip the sticks over and sprinkle the cinnamon streusel over the sticks. Place the pan back in the oven and bake for another 9-10 minutes, or until sticks are golden and streusel is set. Remove from the oven and serve warm, with syrup, if desired.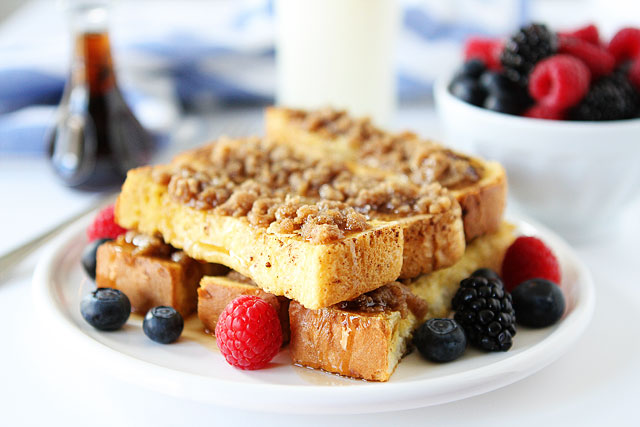 All images via: Two Peas & Their Pod